---
Eyelash Extensions
"Life is short, Lashes don't have to be…"
Consultation – FREE
Full Set – $130
Fill – 2 weeks $50, 3 weeks $60
Removal $40
Prices listed above are an estimate and will depend on time spent & loss.
---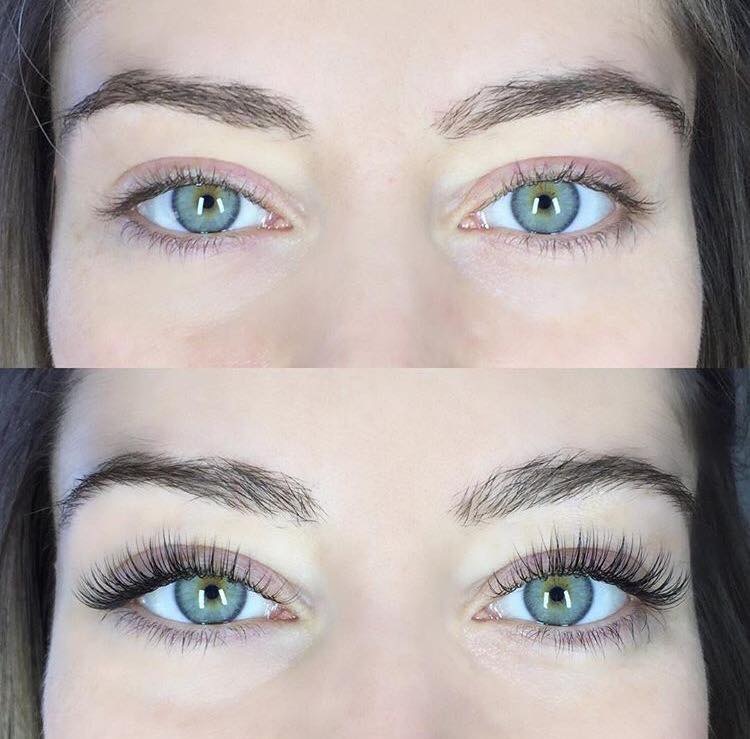 ---
What should I do to prepare for my appointment?
Your eyelashes should be completely clean and ideally you will have no eye makeup on to ensure there is no residue on your lashes. Having them clean prior to your appointment leaves more time for the actual application of the extensions. To get the best results, avoid curling your lashes the day before your appointment, washing your face with hot water, using a steam bath or swimming for 48 hours. If you wear contacts, you should not have them in during application. You can put them back in after the application is completed.
How long does it take to apply Eyelash Extensions?
Depending on the amount of eyelash extensions being applied, it can take anywhere from 1-2 hours.
How long will they last?
Your eyelash growth cycle will determine how long they last. The term "permanent" is applied to lash extensions in that they are permanently attached to your natural lash. The term "semi-permanent" is used since you will need to have a "fill" or "touch up" to attach new extensions to your new lash growth. Your growth cycle can vary by individual but generally an eyelash will shed every 45-90 days. There are 3 stages of growth that your hair goes through and that is why you always have a lash line because your hair is never all in the same stage at once. The extensions are not applied to the little "baby" short hairs; they are attached to the medium to long hairs so they are already a few weeks into their cycle before an extension can be applied to it. This is why a monthly touch-up is required. Proper care will also determine how long the lash extensions last. It is important to not use oil based product on or near the extensions as it will break down the adhesive bond. The less you touch your lashes (rubbing, pulling, scrubbing) the longer they will last. Keeping your eyelashes clean will also help them to last longer since you will not have foreign materials on them for prolonged periods of time.
How often should I get a touch-up?
Just like your own lashes, extensions fall out over a period of time. Since the extensions are attached to the lashes that are in the middle of their lifecycle, they tend to shed after 5-6 weeks of wear. To maintain a consistently full look, touch ups are recommended every 2-3 weeks.
Do Eyelash Extensions make my natural lashes fall out?
Absolutely not! It is important to have your eyelash extensions applied by a qualified technician who uses quality products. Pulling, rubbing and touching your lashes with extensions on them may cause the natural lash to prematurely come out.
How to keep your lashes looking their best?
Lash Extensions are meant to make your life easier, not more difficult. Extensions are extremely low-maintenance. Just comb through your lashes with a clean mascara wand and prepare to turn heads!
Here are a few tips to help you care for your new luscious lashes!
1. Be gentle and keep them clean 2. Avoid touching them as much as you can 3. Use an oil-free cleanser 4. Avoid oil-based products: make-up, cleansers, moisturizers and sunscreen
Can I wear Mascara and or Makeup?
Using Mascara on your extensions is NOT recommended. The look and ease of lash extensions are designed so that you don't need to use mascara at all. Most mascaras contain ingredients that will damage and dissolve the boding agent on your extensions and hence shortening your extensions longevity. You can definitely wear makeup, just avoid mascara. Eyeliner, eyeshadow, foundation, concealer will not harm your extensions. Make sure to avoid oil based products around the immediate eyelash area.
Can my Eyelash Extensions be removed?
Your eyelash extensions are semi-perminant, which means that they can be removed. The removal process takes no more than 30 minutes.
---
---
A get away from the everyday...
We offer a wide range of services to help you look and feel your best.
Book an Appointment
---