---
Microblading
"Never underestimate the power of an eyebrow."
Consultation – FREE Microblading– $500, includes 5 week touch up
Touch up– 2-5 months- $80
6-9 months– $100
10-18 months– $200
Microblading is a semi-permanent manual method of tattooing that gives your brows a natural subtle look without the use of makeup. It will also add more definition to your brows, giving you the shape you've always desired.
Microblading is a semi-permanent manual method of tattooing that gives your brows a natural subtle look without the use of makeup. It will also add more definition to your brows, giving you the shape you've always desired.
---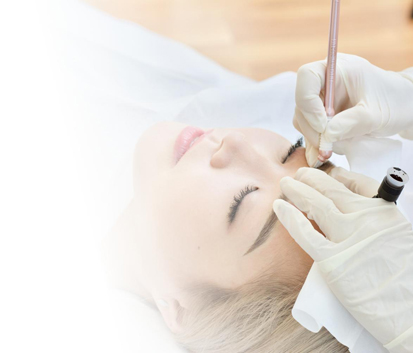 ---
What is Microblading?
Microblading is a semi-permanent manual method of tattooing that gives your brows a natural subtle look without the use of makeup. It will also add more definition to your brows, giving you the shape you've always desired. It is done using a very fine blade to deposit pigments into the epidermis, impacting color closer to the surface, the strokes appear crisp and very fine.
The pigments used in this method have been formulated to match your original eyebrow color, and if the eyebrows are still present, blend perfectly into them. A touch up once a year is recommended to retain the shape and saturation of pigment.
Results: Natural, flawless, fuller looking brows. The results can last anywhere from 12 to 18 months, depending on different factors affecting the procedure.
Am I an ideal candidate for Microblading?
As an artist, my goal is always to ensure that you receive the best possible results from your treatment. This is heavily reliant on your skin being healthy, strong, and calm. Unfortunately, pre-existing skin conditions and skin treatments can heavily compromise the effectiveness of microblading, leaving both you and me in an unfavorable situation. So, before you go ahead and book your appointment, read these pointers below to find out if microblading is for you…
SKIN CONDITIONS
Skin Complications – If you have skin which is prone to complications with eczema, psoriasis, keratosis pilaris and dermatitis (i.e., your skin is constantly flaking, itching, or aggravated), chances are your skin is in a is in a constant state of unrest and shedding and is not suitable for tattooing and therefore won't hold the pigment well.
Chronic Conditions – The same goes for conditions like chronic acne and rosacea. The inherent nature of this type of skin causes easy bleeding, which once again means your skin will not retain the colour very well and intended effect of microblading.
Additionally, excessively oily skin can cause those tattooed hair strokes to blur together and give off an unwanted solid effect instead of a naturally feathered look The inherent nature of these types of skin causes easy bleeding once aggravated, which once again means your skin will not retain the colour and intended effect of Microblading.
State of Skin – If your skin has large pores, specifically in the region of the eyebrows and forehead (aka the T-Zone), the color will blur and result in a powdered look. Along similar lines, tattooed hair strokes will not lay properly on skin with deep wrinkles, which can make the overall look appear uneven. Moles, bumps, piercing, and generally raised skin around the eyebrows will also not be able to retain colour.
Skin Type – If you are a redhead, have thin, translucent skin with light eyes, your skin is very likely to be hypersensitive and your skin will not be able to tolerate microblading well. The same applies if you just have generally very thin skin – it will bleed easily and not retain colour well.
Sunburn – If you are hoping to get microblading done but have gotten a tan or worse, a sunburn, it's best to wait until your skin has resumed its normal colour and let your sunburn healed before booking in for a procedure.
Previous Permanent Makeup – People who have previously had permanent makeup may want to change or fix what they have previously had done. Clients may have to consider laser removal prior to a procedure and must disclose this information to their artist to seek advice on whether or not they can work with their existing permanent makeup.
MEDICATIONS
Accutane/Retin-A – Individuals who have been taking acne medications such as Accutane or Retin-A within the last year have an altered skin condition that will not heal well after the procedure. It's very important that you wait a year before tattooing the skin. Similarly, Retinol and Vitamin A users should discontinue the use of each a month prior to their procedure.
MEDICAL CONDITIONS
Hair Transplant – A commonly unknown fact is that scar tissue will form within the eyebrow transplant site. If you have had a hair transplant for your eyebrows, microblading is not a suitable procedure for you.
Autoimmune – Even more seriously, if you have an autoimmune disorder such as lupus, or frontal fibrosing alopecia, you will be not a good candidate for Microblading due to your compromised skin health caused by these disorders.
Other Conditions – If you are pregnant, nursing, have hemophilia, a heart condition, , it is absolutely not recommended that you get any form of permanent make up done as this puts you in a high-risk position. People who have heart issues often are on medications that thin the blood which will cause excessive bleeding a poor results with microblading.
REACTIONS TO TREATMENTS
Below is a list of medical conditions and their prescribed treatments/medication that often cause skin irregularities, making microblading an unsuitable procedure for you:
Trichotillomania (i.e., the compulsive pulling of body hair) causes the scar tissue in the eyebrow skin to be prominent, which does not allow the colour to heal properly.
If you have continued use of Accutane, Retinol, or skin-peeling acids, you may be prone to excessive bleeding due to your altered skin condition, therefore, microblading would not be a viable option for you.
So, if you're thinking you're ready for a microblading procedure, it is important to know that the results of your permanent makeup will be based on the health and quality of your skin.
Results will vary from person to person, and if you have a pre-existing skin condition or are on medications, you may still be eligible for a procedure but should adjust your expectations based on your situation. Like any procedure, every person is unique and will react differently.
Does Microblading Hurt?
Because you are numbed prior to the procedure, the level of pain experienced can be minimized, but in all honesty, there is definitely some discomfort involved. The best way to describe the discomfort felt during a microblading procedure would be similar to that of a continuous cat scratch on and around the area.
The skin near the front of your eyebrow is thicker, so this will likely be a lot less painful than the tail of your eyebrow. The tail of your eyebrow sits very close to the temple, where the skin is very thin.
The thinner the skin, the more likely you will experience a higher level of discomfort. That being said, everyone's skin and pain threshold are different, so everyone will have varying experiences. There should not be a point during the procedure where the pain becomes unbearable.
How do I prepare for my appointment?
The Prep: If you've ever hired a professional painter they will tell you that "it's all in the prep".  Professional painters know that they get the best results when they spend extra time sanding, filling holes, making sure edges are smooth and applying the right primer.  Well microblading is very similar.  You will get much better results when you properly prep. It all starts with a good canvas! The eyebrow area must be healthy, strong, non-sensitive and non-irritated.  Here's how to get your skin ready for the procedure.
Do not pick/tweeze/wax/perform electrolysis one week before procedure
Do not tan two weeks prior or have sunburned face
Do not have any type of facial 2 weeks prior to treatment
Do not work out the day of the procedure.
Do not have botox 3 weeks prior
Do not take Fish Oil or Vitamin E one week prior (natural blood thinners)
Do not wax or tint your eyebrows 3 days before the procedure.
In order to avoid excessive bleeding and poor color deposit:
Do not drink alcohol 24 – 48 hours before your tattoo
Do not consume coffee before your procedure
Do not take an aspirin or ibuprofen for pain relief (this thins the blood)
How do I care for my new brows?
Now that you know what NOT to do, it's time to share my secret recipe for amazing microblading results!
The day of the treatment:
Absorb Gently blot the area with clean tissue to absorb excess lymph fluid. Do this every 5 minutes for the full day until oozing has stopped.  Removing this fluid prevents hardening of the lymph.
Days 1-7: Wash Wash daily to remove bacteria and dead skin. (Don't worry….THIS DOES NOT REMOVE THE PIGMENT!) Gently wash your eyebrows each morning and night with water and Cetaphil. With a very light touch, use your fingertips to gently cleanse the eyebrows. Rub the area in a smooth motion for 10 seconds and rinse with water ensuring that all soap is rinsed away. To dry, gently pat with a clean tissue. DO NOT use any cleansing products containing acids (glycolic, lactic, or AHA), or any exfoliants.
Days 1-7 Moisturize Apply a rice grain amount of After Inked ointment with a q-tip and spread it across the treated area. Be sure not to over-apply as this will suffocate your skin and delay healing. The ointment should be barely noticeable on the skin. Never put the ointment on a wet or damp tattoo.
This should have you covered, but here are some extra tips to help with a smooth and easy recovery:
Important Reminders
Use a fresh pillowcase
Let any scabbing or dry skin naturally exfoliate away. Picking can cause scarring or loss of color
No facials, botox, chemical treatments or microdermabrasion for 4 weeks
Avoid hot, sweaty exercise for one week
Avoid direct sun exposure or tanning for 4 weeks after procedure.  Wear a hat when outdoors.
Avoid heavy sweating and long hot showers for the first 10 days.
Avoid sleeping on your face for the first 10 days
Avoid swimming, lakes, hot tubs for the first 10 days
Avoid topical makeup including sunscreen on the area
DO NOT rub, pick or scratch the treated area.
Remember, with the proper prep and aftercare routine you will have much better results with your microblading procedure.
Don't forget your new favourite acronym: AWM – Absorb, Wash, Moisturize! Important note about showering: Limit your showers to 5 minutes so you do not create too much steam. Keep your face/procedure out of the water while you wash your body, then, at the end of your shower, wash your hair. Your face should only be getting wet at the very last end of the shower.  Avoid excessive rinsing and hot water on the treated area.
What Can I Expect After a Microblading Procedure?
The healing process after a microblading procedure varies from client to client based on many factors. This could include, but is not limited to: the artist's technique, pigments used, aftercare instructions, whether or not shading was done, as well as just overall how someone's body and skin reacts to the procedure or heals. Some of the most common things clients can expect after a microblading procedure are:
Tenderness in the area
Pink or redness around the affected area
Swelling of the area
Thickening and darkening, even a bold look on eyebrows
Moderate to thick scabbing 3-4 days after the procedure
Scabs will begin to flake off between days 5-10
After scabs flake off of the area, the pigment color and strokes will look light, grey, and even blurry
After area is fully healed (4 weeks after procedure) the pigment will return to full colour
How Long Does Microblading Last?
It really depends on the client and the health of their skin, but microblading procedures should last anywhere from 12-18 months before requiring a touch-up. Microblading is not supposed to last forever and will require touch-ups when the pigment begins to fade.
Microblading is a form of semi-permanent makeup and is subject to fading over time due to exfoliation, sun exposure and skincare products that may increase exfoliation of the skin.
How Long Does Microblading Take to Heal?
Just like a typical skin wound, Microblading takes about 10-14 days to heal before it can get completely wet without disturbing the skin or the healing process. This includes heavy exercise and sweating, showering, and face down swimming.
The area will be fully healed 30 days after the procedure was done.
---
---
A get away from the everyday...
We offer a wide range of services to help you look and feel your best.
Book an Appointment
---